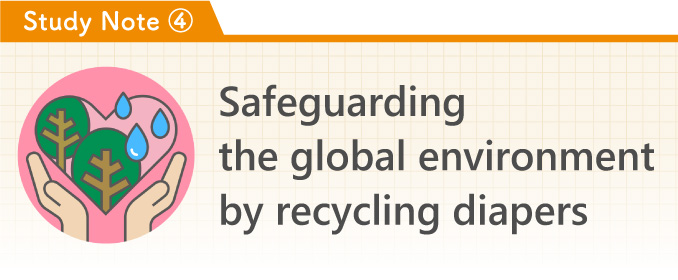 Study Theme: Benefits of recycling used disposable diapers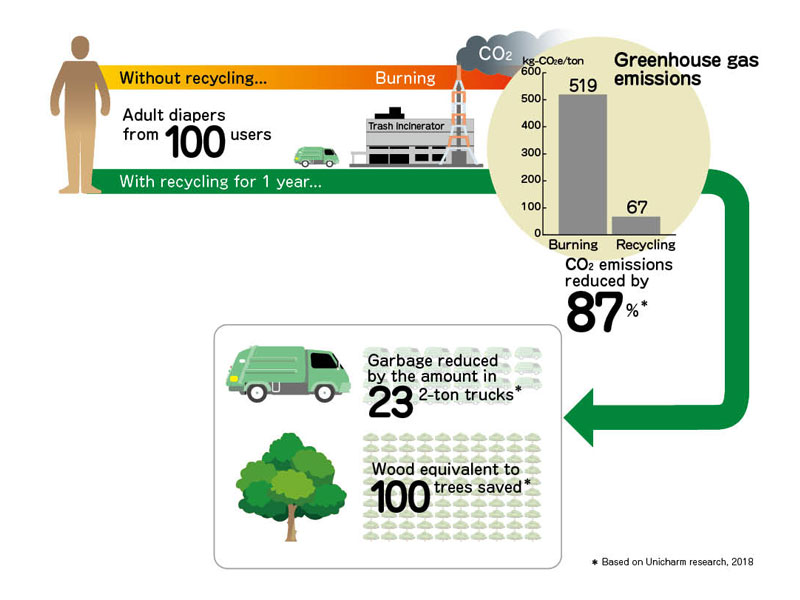 In 2016, Unicharm began working with the city of Shibushi* in Kagoshima Prefecture, Japan, to recycle the used disposable diapers on a trial basis and study its effects. (*The neighboring town of Osaki has also participated in this project since 2018.)
Results show that recycling reduced the emissions of carbon dioxide (CO₂) and other greenhouse-effect gases by 87% comparing to that of no-recycling. What's more, recycling the adult diapers used by 100 people in one year reduced as much as 23 2ton-trucks wastes which saves as many as 100 trees of forest resources. The use of disposable diapers is expected to keep growing going forward.
If we want to preserve forest resources and reduce CO₂ emissions, it is quite essential that we stop throwing away used diapers and recycle them instead.
How can we keep used diapers out of the "garbage"?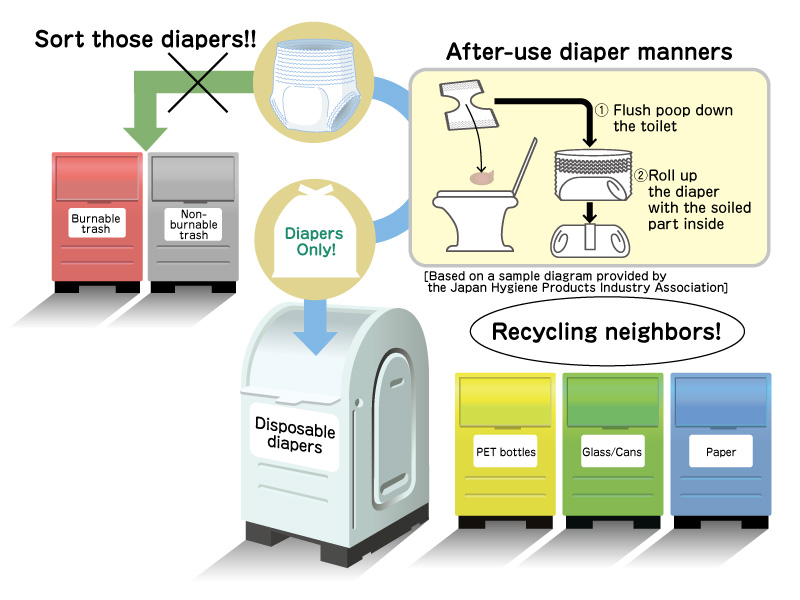 The most important rule for recycling the used disposable diapers is to "sort them out"! If not, even the recyclable items will become just a part of "household wastes".
The city of Shibushi, a project partner of Unicharm on diaper recycling, collects used disposable diapers separately from other garbage. Used diapers are put in a special plastic bag which is then placed in a garbage can specially designed for diapers. With this just a little bit of extra effort, people in Shibushi managed to transform approx. one-fifth of their total "wastes", the amount of used diapers, into a renewable "resource".
Recycling of used disposable diaper has just started on an experimental basis in a few places, but the number of local community who is interested in this project is growing. Try to imagine about how your home town is disposing the used disposable diapers. You can probably find it out in the official website of your local government.
We have prepared a PDF report for you to write down what you notice after reading this page. Please print it out and use it for independent study or report writing.