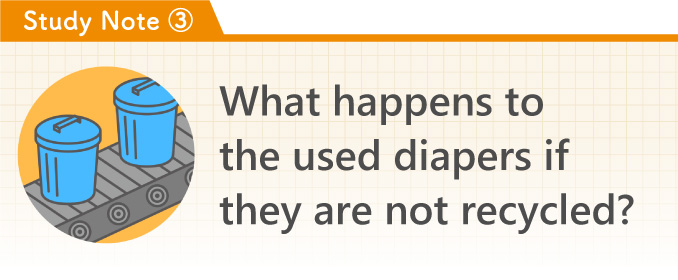 Study Theme: Problems with current ways of disposing used disposable diapers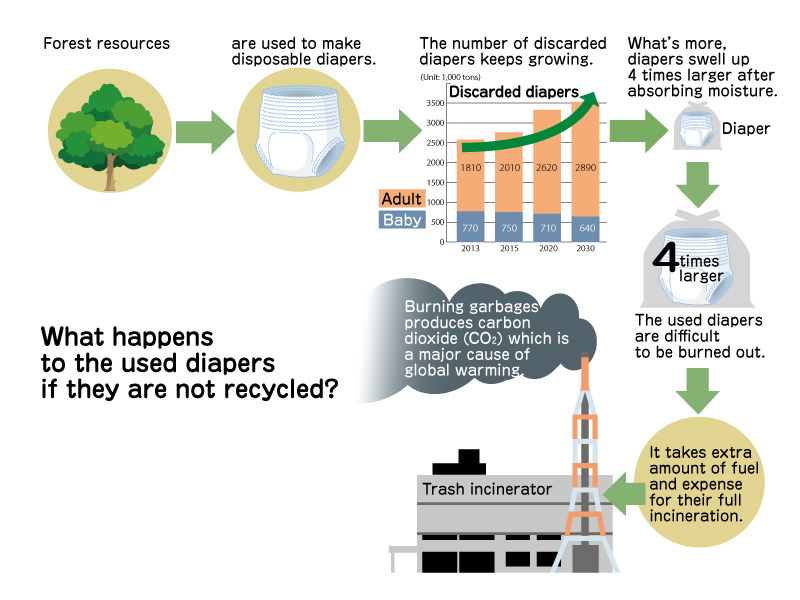 Recycling of the used disposable diapers is still a new idea and is not yet being done on a full-scale basis in the world. Most of the disposable diapers are still thrown away as the household waste. Method of waste disposal varies from country to country or region to region. In Japan, nearly all of them are burned in incinerators.
Burning the used disposable diapers causes the following problems:
As they are so full of moisture, the used diapers are difficult to be burned out therefore  it takes extra amount of fuel and expense for their full incineration. 
Burning garbages produces carbon dioxide (CO₂) which is a major cause of global warming.
If the used disposable diapers are not recycled, we will have to consume the considerable amount of forest resources for manufacturing diapers from the new pulp.
In other words, we need to come up with the new ideas for creating the sustainable system in consideration of natural environment.
To learn more about "global warming":
Recycling used disposable diapers contributes to the United Nations Sustainable Development Goals (SDGs)

Since 2015, Unicharm has been researching and developing ways to recycle the used disposable diapers as part of its efforts to be a manufacturer of eco-friendly products. Its initiatives coincide with the "Sustainable Development Goals (SDGs)" put forward by the United Nations.
As a matter of fact, recycling our own products meets with Goal #12 "Ensure sustainable production & consumption patterns" while reducing CO₂ emissions through recycling contributes to Goal #13 "Take immediate action on climate change" and avoiding unnecessary consumption of forest resources leads to Goal #15 "Safeguard terrestrial ecosystems".
Recycling disposable diapers is one way we can contribute to these SDGs for solving the common global issues.
To learn more about "SDGs"