Key Topics:Safeguarding the Well-being of Our Planet
Our basic approach and strategy
Addressing global environmental issues is becoming extremely pressing and companies are playing an increasingly important role in reducing the burden on the environment and making a sustainable society a reality. Unicharm recognizes that safeguarding the well-being of our global environment is one of the company's most important issues. To contribute to activities that improve the global environment, we aim both to provide hygienic and convenient products and services such as the creation of a recycling model that covers the entire product life cycle through a recycling system for used disposable diapers and to introduce renewable power. 
Initiatives aimed at promoting the recycling of disposable diapers
















Background of Initiatives
With the advent of a super-aged society, production of disposable incontinent adult diaper continues to increase and it accounts for around 1/8th of total household waste by volume. In addition, disposable diapers are made from paper pulp which uses wood as its raw material and rising pulp usage leads to the increased consumption of forest resources. We consider efforts to reduce waste incineration costs and CO2 emissions and make effective use of resources the "responsibility of disposable diaper manufacturers," therefore we began efforts to recycle used disposable diapers in 2015 and are working on technology development and demonstration experiments.
【Japan】Creating our own unique recycling system for used disposable diapers
In Unicharm's used disposable diaper recycling project which began in 2015, we created a recycling system in which the used disposable diapers collected are washed and separated and the pulp taken out undergoes a unique ozonation process to kill the bacteria contained in the excrement, making it as hygienic and safe as virgin pulp.
Verifying environmental effects and hygienic safety
We examined the actual effects implementing the recycling system would have from a variety of perspectives. The results showed that the amount of greenhouse gases emitted could be reduced by 87% compared to incinerating used disposable diapers and producing new products from unused pulp. We were also able to confirm that recycled pulp maintained high safety and sanitation levels similar to those of unused pulp.
Comparison of pulp before/after ozonation of used disposable diapers
Greenhouse gas emission volume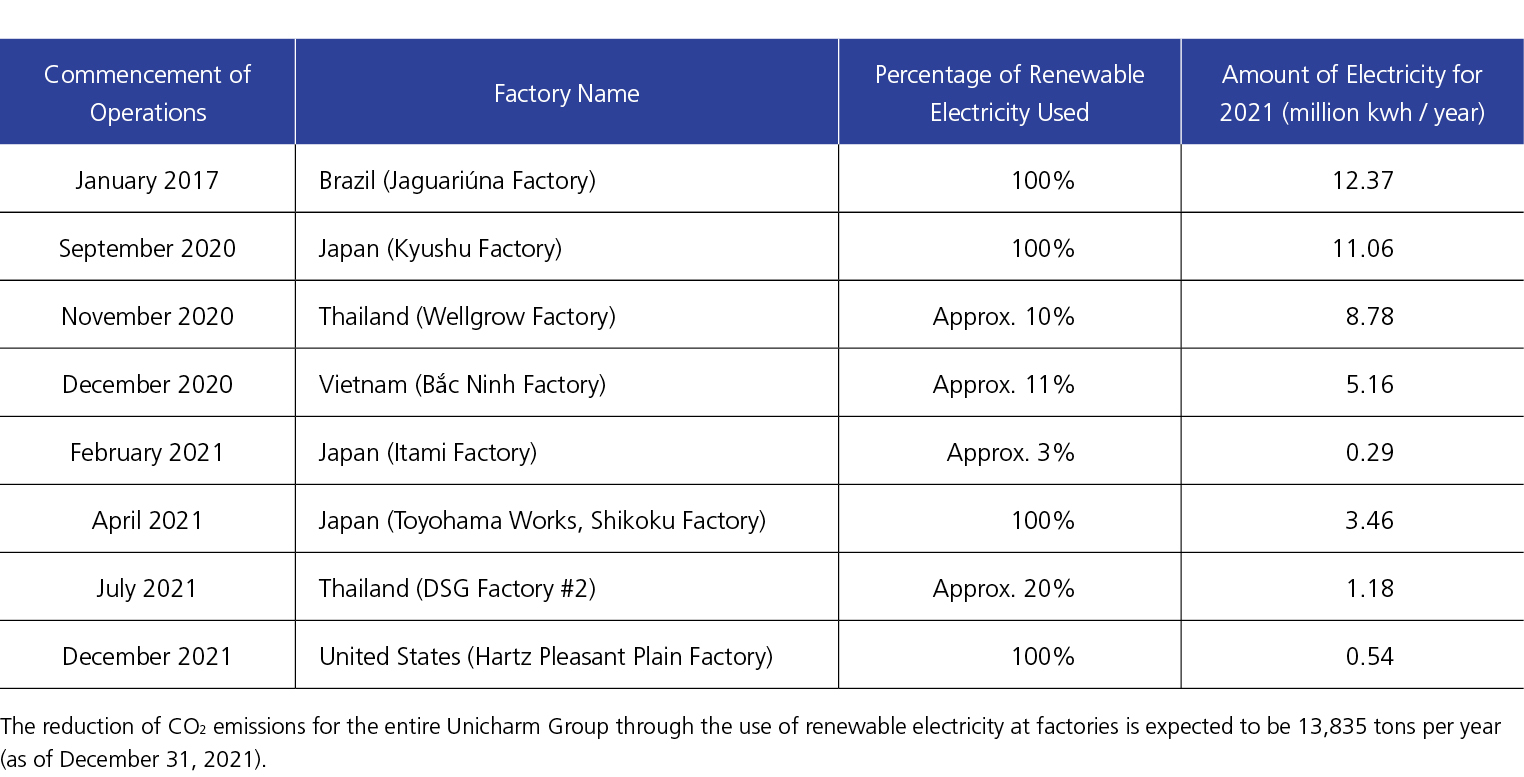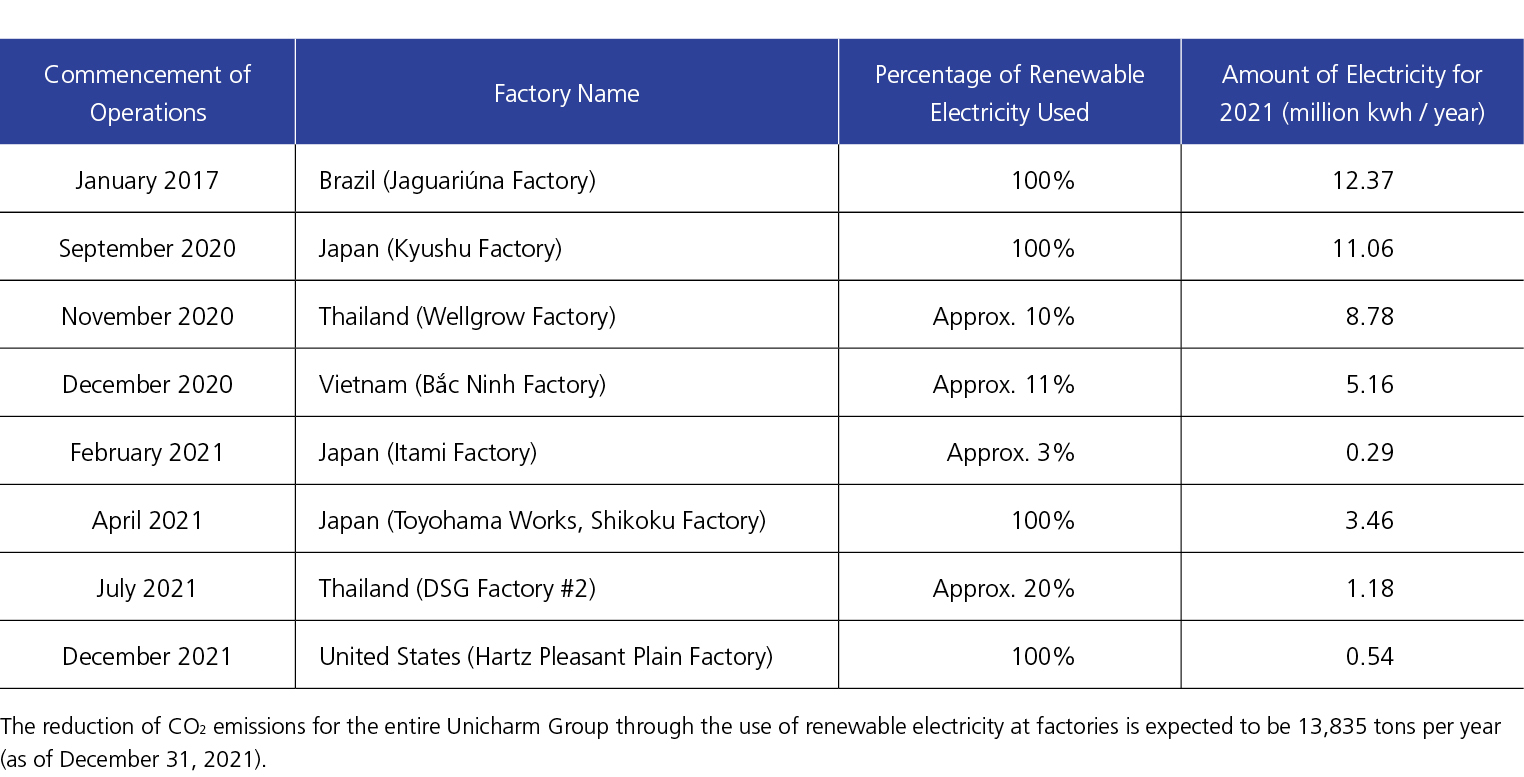 Bacteria count in each process
Amount of residual proteins
If adult diapers from 100 people were to be recycled over a one-year period, this would reduce the waste generated by an amount nearly equivalent to the waste contained in 23 2-ton waste collection vehicles and would save 100 trees worth of wood.
* Based on a survey conducted by Unicharm
Collaboration with self-governing bodies
Since May 2016, we have taken part in the "Used Disposable Diaper Recycling Promotion Council" which consists of 18 groups and individuals primarily in Shibushi City, Kagoshima Prefecture. On November 1st of the same year, Shibushi City, along with the So Recycling Center, and our company signed an agreement on the collection and recycling of used disposable diapers(on April 2, 2018, we signed a four-party agreement that included Osaki Town). In order to make our used disposable diaper recycling business a reality, we are conducting a demonstration project of a recycling system and promoting collaboration with Shibushi City and Osaki Town. In 2020, we introduced large-scale mass production equipment at the So Recycling Center to replace the current small-scale equipment and are strengthening our efforts to establish a recycling system that can be widely used both in Japan and overseas.
In addition, on October 30, 2020, we concluded a "Regional Revitalization Comprehensive Partnership Agreement" with HigashiYamato City, Tokyo to support in seven areas such as disaster countermeasures, health promotion, child-rearing and others. With regard to one of these areas, "environmental measures," it was decided that a "demonstration project for promoting the recycling of used disposable diapers" would be carried out by the Tokyo Metropolitan Government in 2020. Going forward, we will work on the demonstration project to promote technological development for the recycling of used disposable diapers in urban areas by collaborating with HigashiYamato City, elderly care facilities, nursery schools and companies involved with collection and transportation to solve problems related to segregating, collecting and transporting the used disposable diapers.
Flow of "Pulp recovery process for horizontal recycling through water solubilization/separation/ozonation"
Formulation of "Guidelines for the Reuse of Used Disposable Diapers" (Ministry of the Environment)
In March 2020, the Ministry of the Environment formulated the "Guidelines for the Reuse of Used Disposable Diapers" as a reference for municipalities in their consideration of recycling used disposable diapers. These guidelines organize the series of considerations to be made when recycling used disposable diapers and others, examples of initiatives, relevant technologies and regulations, etc. In addition, one of the example cases introduces Unicharm's ozone recycling method and the details of its demonstration project in Shibushi City.
For reducing the amount of plastic use












Background of Initiatives
The quantity of "plastic waste in the oceans" has been increasing steadily and, because this type of waste takes a long time to decompose, it is forecast that, by 2050, the combined weight of all the plastic waste in the sea will exceed the combined weight of all the fish living in the oceans. As a manufacturer that uses plastic in its packaging materials, Unicharm feels that it has a responsibility in this regard. With the aim of helping to address the global problem of plastic waste in the oceans, Unicharm supports the "Plastics Smart" campaign organized by the Ministry of the Environment which is being implemented in collaboration with organizations in many different sectors, and is working to reduce plastic usage at every stage of product development from R&D onwards.
【Japan】Adopting environmentally-friendly packaging
To protect babies' futures, "Natural Moony" is proactively engaged in sustainable activities to ensure that it is not only safe for the skin but gentle on the earth. As part of these activities, we have adopted environmentally-friendly packaging for our "Natural Moony New Born Baby Size with 5 Promotional Trial Samples" distributed at baby shops nationwide. The packaging uses recycled paper material and plant-derived bioplastics and it is designed to be discarded as paper waste. In addition, disposable diapers can be hygienically stored as a zipper is used for opening and closing the package. 
Introducing renewable power *1














Background of Initiatives
With the effects of climate change increasing year after year, Unicharm recognizes that reducing carbon dioxide is a priority. Therefore, to contribute to achieving the 2℃ scenario outlined in the Paris Agreement, in June 2018, we received certification for our CO2 reduction plans up to 2045 under the Science-Based Targets(SBT) initiative. In addition, in our "Kyo-sei Life Vision 2030" revealed in October 2020, we set the goal of "using 100% renewable electricity for all of our business operations by 2030.
The Amazon River which flows through South America is the largest river in the world and the area of its basin is more than 18 times the size of Japan and comparable to the Australian continent. In Brazil, this rich source of hydropower is utilized to generate about 63% of the country's electricity through hydroelectric power generation*2. At our local subsidiary factory in Brazil located in Jaguariuna, Sao Paulo, we are promoting the reduction of CO2 emissions by using 100% renewable electricity such as hydroelectric power generation, wind power generation, and solar power generation.
Unicharm Products Co., Ltd. signed a contract with Tepco Customer Service Co., Ltd. regarding the transfer of the "Green Power Certificate"*3 issued by Japan Natural Energy Company Limited and operations began on September 1, 2020. This allows the company to make all of its annual power consumption(9.8 million kWh) of the Kyushu Factory, a state-of-the-art smart factory in Japan, derived from green energy and aim to reduce annual carbon dioxide emissions by about 5,000 tons*4.
Our local subsidiary in Thailand signed "Power Purchase Agreement"*5 with Symbior Solar Limited and has been conducting commercial operation of solar power generation since November 2020. The solar panels placed on the roof of the factory and throughout the premises utilize the hours of sunlight which are about 1.4 times the amount of Japan to efficiently generate and supply electricity. As a result, about 11% (9 million kWh) of the electricity used at the factory will be converted to renewable electricity and we aim to reduce carbon dioxide emissions*6 from the factory by about 4,300 tons annually.
Our local subsidiary in Vietnam signed "Power Purchase Agreement" with a group of eight investors including TP Viet Nam Investment Limited and started solar power generation in December 2020. This resulted in approximately 22%(10.2 million kWh) of annual power consumption being converted to renewable power which will reduce carbon dioxide emissions by approximately 3,600 tons*7 per annum.
*1  Electricity generated from renewable and natural energy sources such as wind power, solar power, biomass and small-scale hydropower.
*2  International Energy Agency, "IEA World Energy Balances 2019"
*3  A certificate that turns the added environmental value of electricity obtained from renewable electricity into a tradeable certificate or a system that uses such certificates.
*4  The annual reduction of about 5,000 tons of carbon dioxide is equivalent to the amount of CO2 emitted annually by about 1,400 households in Japan.
*5  Under "Power Purchase Agreement," a solar power company installs power-generating equipment such as solar panels on the customer's roofs or on their site to generate and manage electricity for an extended period of time.
*6  The annual reduction of about 4,300 tons of carbon dioxide is equivalent to the amount of CO2 emitted annually by about 4,400 households in Thailand.
*7  The annual reduction of about 3,600 tons of carbon dioxide is equivalent to the amount of CO2 emitted annually by about 5,100 households in Vietnam.